By Our Reporter
WORLD
The foreign minister insisted "pressure" must be put on Niamey's coup leaders to restore democracy, but ruled out a military approach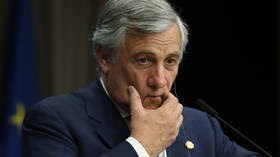 Italian Foreign Minister Antonio Tajani has warned against Western military involvement in Niger, which is now under the control of a junta following a coup last week.
"I think we must put pressure on democracy to be restored, but any Western military initiative should be excluded because it would be seen as a new colonization," Tajani told Rai News on Wednesday.
The minister's comments came after the junta accused France of plotting to "intervene militarily" to free ousted President Mohamed Bazoum, who has been detained since June 26. Paris has stated that it only recognizes Bazoum, who was democratically elected in 2021, as the legitimate power in Niamey, but has denied allegations that a strike is being planned to free him. On Monday, the head of French diplomacy, Catherine Colonna, told the media that the claim is false.
Junta leaders in Mali and Burkina Faso declared on Monday that any foreign military intervention in neighboring Niger would be considered a declaration of war against Bamako and Ouagadougou.
The Economic Community of West African States (ECOWAS) issued a one-week ultimatum to the putschists on Sunday to release Bazoum and restore constitutional order in Niger. The regional body threatened to use force if the junta, led by commander of the Presidential Guard General Abdourahamane Tchiani, did not comply with the directives.
In response, Bamako and Ouagadougou announced that they would exit ECOWAS and "adopt self-defense measures in support of the armed forces and the people of Niger" if the bloc used force.
Russia has called for a national dialogue in the former French colony, with Foreign Ministry spokesperson Maria Zakharova telling the media that the threat of military intervention will only exacerbate the crisis.
Meanwhile, Italy and France have begun evacuating their nationals and other European citizens from the West African country. Paris cited an attack on its embassy on Sunday and a wave of anti-French protests as justifications. A military plane carrying 36 Italians and 32 other foreign citizens arrived in Rome early Wednesday, Foreign Minister Tajani announced on Twitter (now rebranded as X).
The European Union's foreign policy chief, Josep Borrell, announced on Tuesday that the EU will repatriate its citizens from Niger after previously suspending budgetary support and all security cooperation activities.